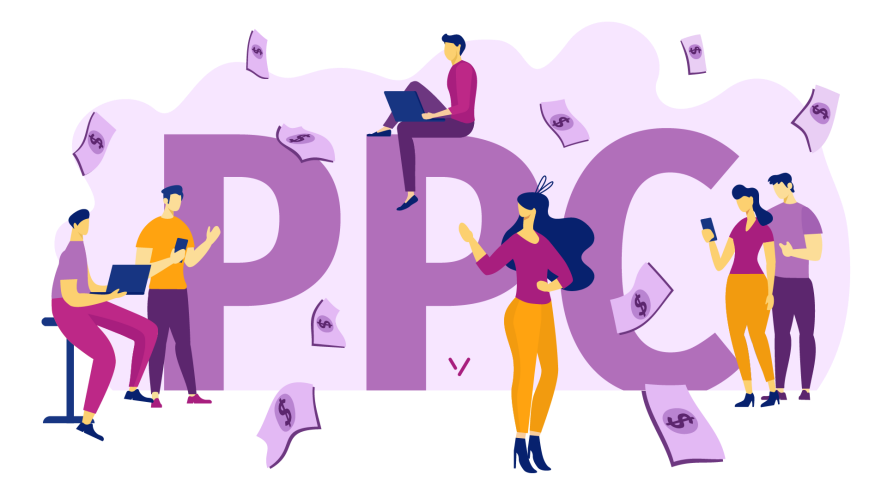 PPC Marketing
Chances have it, you've come across PPC advertising but you just didn't know it. In this article, we'll talk about the benefits of PPC marketing and how it's evolving recently. Let's see how you can apply this information to grow your brand in ways you didn't think possible! Let's not waste any more time and get going!
What is it?
Well to start off, PPC stands for pay-per-click. Basically, it's a type of marketing in which advertisers pay a fee each time their ads are clicked. You're buying visits to your site, rather than going the organic approach, where people naturally visit your website.
The most popular form of PPC is of course of the search engine kind. This method lets advertisers bid for ad placement on sponsored links provided by your favorite search engine's.
75% of people say paid ads make it easier to find what they need

Source: WebFX
Every time a person clicks your ad ( that they found by stumbling across your keyword placement) you have to pay a small fee to the search engine. When correctly integrated and applied, the fee you'll be paying is nothing compared to the worth of each click. Meaning if you get a 200$ return on a 1$ click, you're doing great!
Google Ads
We'd be silly to talk about PPC and not mention Google Ads. It's the most popular advertising system in the world! This platform lets businesses of all scales create unique ads that appear within Google's search engine.
80% of all companies focus on Google Ads for PPC

Source: WebFX
Here you bid on keywords and as mentioned earlier, pay for each click. The algorithm allows Google to choose a set of winners to appear on their ad space in its search results page. What does the algorithm look for when trying to choose the best ad? First and foremost, it's going to be the relevance of their keywords. Quality is important as well and of course the size of the bid comes into play.
Ad Rank
This metric is also important when it comes to choosing who gets to appear on Googles search results. It uses two metrics to "Ad Rank" your advertisement. CPC bid and the quality score. The first metric checks the highest amount that the advertiser is looking to spend while the second focuses on CTR ( Check out: Video to boost your CTR) , landing page quality. Ultimately, it works similar to an auction. Winning advertisers are usually people who have exceptional results within these two metrics.
SEO + PPC
Believe it or not, these two have a lot more in common than you think. 2020 seems to be the year that PPC and SEO work together to help your business grow. This will of course force a lot of business to reconsider their marketing strategy, which is what it takes to take your business to the next level.
The reason being? The exchange of keyword data and SEO ( Find out more: SEO tips to make your video content stand out) ranking data will allow these two to work together. The goal is to increase SERP (Search Engine Results Pages) coverage for all of your clients, and this is the way to do it!
Video Advertising
Stop ignoring video! Just stop it! Video is here to stay and it's only going to get bigger. That's why it'd be smart for you to implement video within your PPC marketing strategy!
93% of marketers use video

Source: SingleGrain
Video naturally boosts conversion, brand awareness, engagement ( See also: 6 Engaging Types of Video Content ) and everything in between! The truth is, video content is the best form of content if you're looking to create an emotional connection with your viewers. It's versatile and anybody who considers upping their digital marketing strategy with video, know what they're doing.
No excuses!
And you've got no excuse not to start creating your own video content to start turning heads! One word, Videommerce. It's an all-in-one video editor that let's you be the director of your content. Create stunning and quality videos in minutes using this awesome technology. You've got hundred of templates to choose from, or use your own videos to edit! The best part is, it's completely free to start.
73% of B2B marketers say video positively impacts their ROI

Source: Tubular Insights
Today, businesses (SMBs to be more precise) are always looking at ways to get the word out. There's no better way than video, and you've got the tools to start creating!
To sum up
Digital Advertising is evolving at a rapid rate. New opportunities making themselves available for businesses of all sizes. That's why in 2020 it's important to keep an eye on the ever changing landscape of the advertising world. To stay ahead of the competitors, it's essential to fuse strategies you didn't think make sense. PPC marketing can be the golden ticket you've been looking for when applied with other strategies correctly!
---