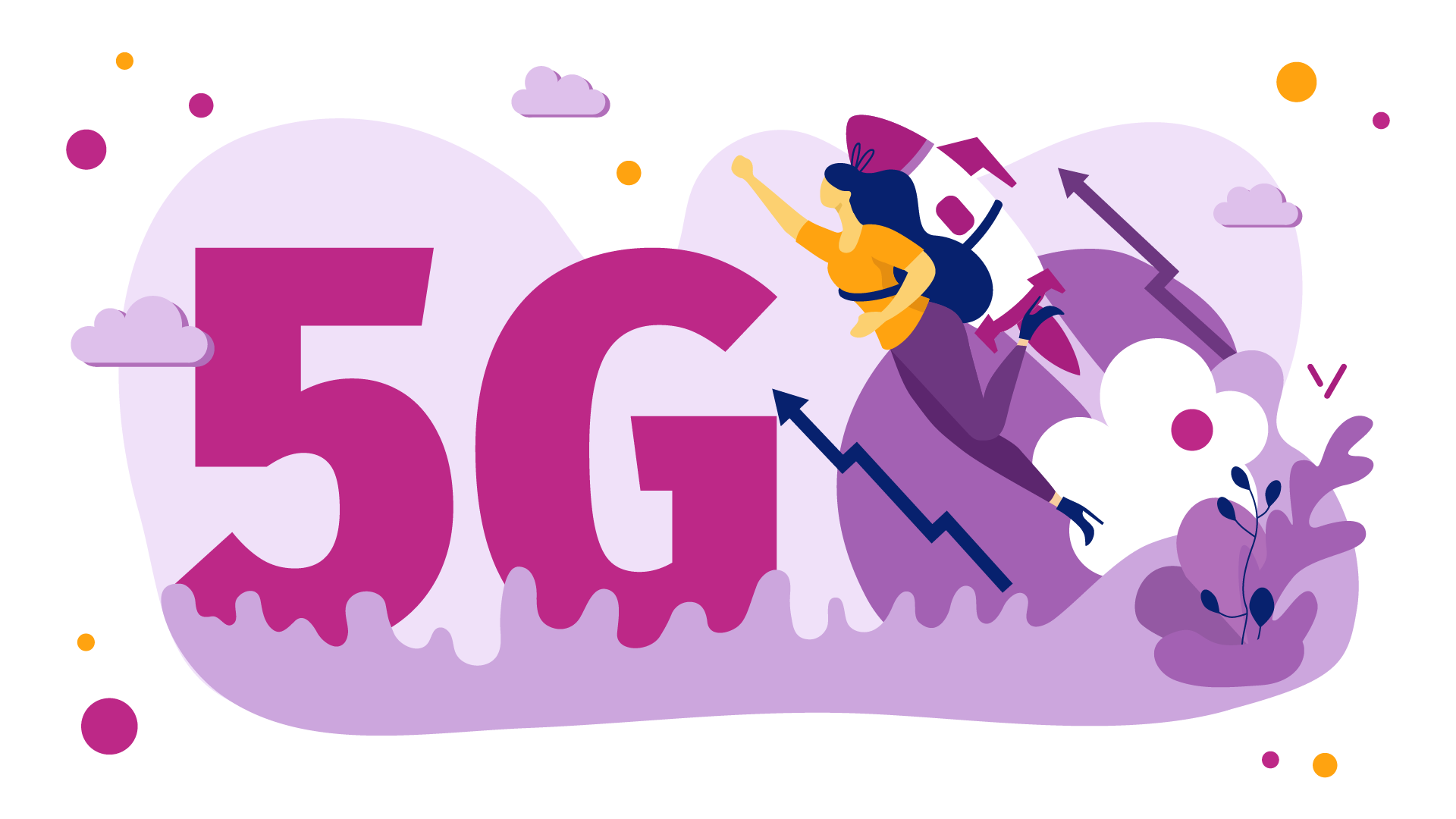 5G in 2020
The fifth-generation cellular wireless network has arrived and it's brought a slew of emotions with it. Let's talk about how this cloud-based network can be used to grow your business. What makes 5G so special and why are some people hesitant to integrate it within their business? In this article, we'll get into the technology as well as what it means for marketers around the world.
What is 5G?
A while back I actually wrote an article about 5G (which you can check out here) , let's see how much of this information holds up today.
It's main advantage over our more familiar 4G technology is the fact that it has much lower latency. What this means in terms we can all understand, 5G is precisely 10x faster than 4G although there are talks that in many cases it will be even 20x faster!
Alright so we got all of that out of the way. Now what's in it for you? What can 5G do for you to take your business to the next level?
5G Networks Will Cover 40% of the World by 2024, Handling 25% of All Mobile Traffic Data

Source: BGR
As far as we know, the possibilities are endless.
Bandwidth
Thanks to more available bandwidth, 5G is going to drastically increase speed, and improve latency along with capacity of your internet connection. This means you'll be able to transmit far more data from more devices.
5G and Marketing
The part of the article most of you have been waiting for. How will 5G actually impact our marketing strategies? Well I've done the research and it here are a few things that might be a game changer for all of us marketers out there.
More ads everywhere
We've been accustomed to seeing digital ads on websites, our mobile phones, screens at shopping malls and airports. 5G, with it's evolved Wi-Fi technology will make it more abundant around the world, even in areas you would least expect.
The internet will be brought everywhere, and with that come ads. Additionally, because of how effictient it is, the content will be far more advanced due to 5G's incredibly fast network speeds!
The Augmented Reality market will increase its value to $198.7 billion by 2025 according to 5G statistics

Source: Tech Radar
So yes, the world is going to look a lot like blade runner. What I mean by that is, there will most likely be companies who will be brave enough to put a spin on ads with this robust technology. Integration with augmented reality will be the future of our ads.
Aside from that, there's talks of hologram ads. It's in the early stages but it's definitely something big brands are investing in for the future.
Interactivity
The high-speed of 5G will make marketing content far more interesting. We already know how effective interactive content is ( I've written an article about that : Interactive Video in 2020 ) .
43% of consumers prefer interactive video content over other types of video content because it gives them the ability to decide what information they want to view and when they want to view it

Source: MarketingCharts
We'll be met with ads that will allow the viewers to interact with its content once and for all. Digital ads won't be held back by technology any longer which will undoubtedly lead to a greater interest in interactive ads.
Speaking of all things interactive…
I wouldn't feel right if I didn't mention Videommerce here. It's an all-in-one video platform that's evolving at a rapid pace. The ability to create interactive videos, how does that sound? With Videommerce, you're on your way to shaping digital content to your liking. Whether you're uploading your own video and editing it or creating something from scratch, bring out the inner creator in you (It's free to start)!
Data collection reimagined
Analytics is a vital part of maintaining a successful business, and you already know that. With the latest technology, you'll be able to learn far more about your audience than before.
5G will impact data gathering in a big way. No longer will you have to take hours or sometimes even days, to mine data that you use to create personalized experiences, with today's technology it will take seconds. Apart from the obvious speed of data collection, 5G will collect MORE of it.
Video will be even bigger
Digital marketing and video go hand in hand like peanut butter and jelly. Having said that, 5G will enhance the video experience on a mobile and live video level.
By 2020, the number of videos crossing the Internet per second will approach 1 million

Source: Social Media Week
There's a reason why today's most popular social media platforms are emphasizing the role of live video ( find out more: Live Video Marketing). Right now, more than 60% of videos are viewed by way of broadband, 5G will help expand video reach by making mobile the device for video.
How to prepare for 5G
Just like with everything, great change requires appropriate adaptation. This means you'll need to reassess your digital marketing strategy and integrate with 5G technology. 5G is expected to cover almost 40% of the world by 2024
If interactive advertising isn't your thing, and you aren't even considering augmented reality as a new marketing tactic, you should still consider keeping up with the times. And the times are changing. New strategies provide new opportunities, remember that. Be on the lookout because even if you can't afford this new wave technology, you'll be able to identify quicker which strategies are a better fit for you once things become more scalable.
Keep all of your favorite social media channels ready. And keep churning out quality digital content, it's more important than ever now ( Find out more: High-Quality Content )
Availability
Businesses have already began integrating with 5G networks. The process began in 2019 although it did not come to all places at once. It will still take some time for the rest of the world to catch up.
Naturally, it's going to take some time for 5G to become the standard. 4G continues to grow and expand until then. South Korea become one of the first countries to start using 5G and there are a few select coutntries that are following suit.
Around 270 million 5G subscriptions are anticipated for 2024 in North America

Source: Network World
Apart from the fact that it's going to take time for cities to integrate the new technology, let's also consider the fact that not every mobile device is 5G compatible. It's safe to say that 5G will become more available in your area, depending on the infrastructure of your favorite mobile network. A higher demand will mean more drive and effort by companies to bring 5G to the people quicker!
In the end
One thing is for sure, 5G will force all of us to take our creative minds to the next level. As with all advancements in technology, today's digital marketers would be wise to adapt with the oncoming changes.
Everything will become far more faster which means information will be passed around quicker. 5G is here and you can either embrace it with an open mind or be left behind in the dust.
---