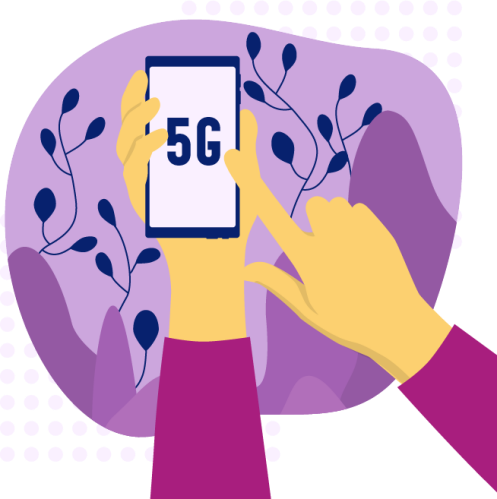 Say hello to 5G!
Are you tired and fed up with your current 4G network? You're not? Oh…Well too bad! The arrival of 5G is upon us so I'm here to shed some light on what all of this means. From the positives and negatives, there is some neat information to be discussed. Strap in, and enjoy the ride!
But what is 5G and how does it work?
Essentially, it's the next in-line technology that's going to "revolutionize" our world. Every generation of "G" technology brought us something new. It started with simple phone calls, to the ability to send SMS messages, plug into the internet and ultimately what we have today.
But 5G is not a replacement for 4G. It simply adds another layer to our network to provide you with a faster, smoother and better mobile experience.

Source: EE
With great power comes great responsibility. And with a new 5G network…you'll need a new phone to match it's requirements. Just like with every new latest technological release, to stay relevant, you'll need to stay on top of your game. Fear not, you can keep your old phone and upgrade when you're ready, 4G isn't going anywhere.
How do YOU benefit from 5G?
Higher speeds and lower latency will also make new experiences possible in augmented and virtual reality, connected cars and the smart home — any realm where machines need to talk to each other constantly and without lag.

Source: Tom's Guide
5G uses higher radio frequencies that aren't currently being used. What this means is that it will support more devices simultaneously. The positives are great for general consumers, however it seems that businesses will be benefiting the most out of this oncoming change. Manufacturing plants and factories will use this new technology to process larger amounts of data which in turn will lead to more automation and ultimately transforming the way our data is being processed. Driver-less cars will also benefit tremendously from these capabilities as well as advancements in virtual reality, notably augmented reality.
Not so fast, why are some people concerned?
Factories and smart cities might need more smaller cell towers than a few large ones as for 4G,

Source: therobotreport
Construction towards sustaining the network. Entire infrastructures have to be built to manage these new frequencies and signals which many fear could lead to discomfort. Another subject is privacy. In the US especially, security experts are stating that 5G technology could make it harder for users to conceal their exact location. Creepy.
Politicians are worried about the security of 5G because these networks will be a become a core part of national infrastructure over the next few years, whether that's in energy, transport, banking, and health or in powering industrial-control systems carrying sensitive information and supporting safety systems.

Source: zdnet
Alongside that, there's concern over the amount of personal data that the new network will help third parties collect. Currently, there is no evidence to show that the 5G network lacks general security, this is something we'll have to see once it's properly implemented into society.
Let's give 5G a chance.
The implementation has already begun in some countries but there will be a delay for everybody else to catch up. Just like with every new release and change in technology, we're instinctively skeptical. The majority of us have transitioned into every "G" seamlessly so far, so 5G shouldn't be any different. It'll be interesting to witness how our general way of life will be affected by the new network provided there are no real hiccups. My verdict is, let's give 5G a chance!
---