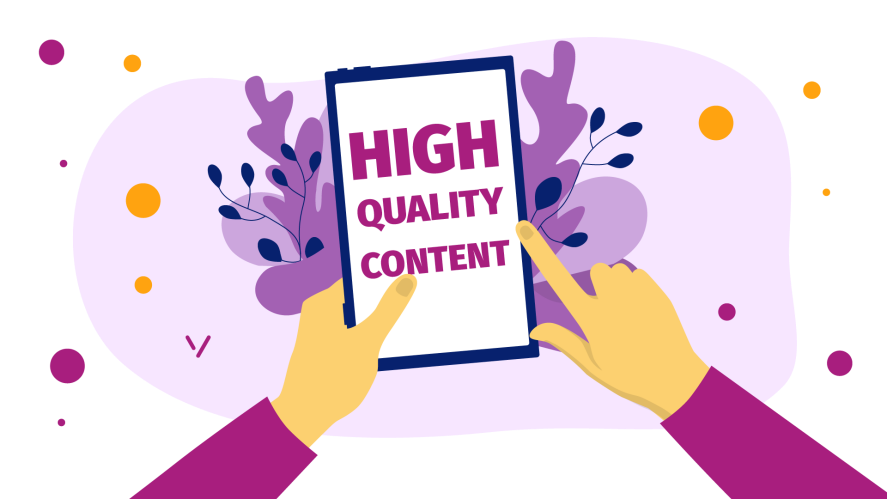 High-Quality Content
The digital marketing landscape is constantly changing. Today, companies much more than just a fancy website with a checkout page to grow as a business. This is where high-quality content comes in.
Marketing strategies are constantly evolving, and so should your approach as well. Combining high-quality content with a clear goal will make it stand out far more. Let's get into the inner details of how all of this works and why it matters.
What makes content great?
I'm glad you asked. In order to fully understand what makes content great today, you'll need to ask yourself a few questions. Great content needs to be integrated at the right place at the right time to be valuable. Once you've determined that , you need to ask these important questions :
What problem are you looking to solve?
Looking to increase brand awareness or customer loyalty?
Are you hoping to generate leads, or going for something else?
And a question that often needs to be asked is whether you're you in the market of solving problems or simply making a certain situation easier for your costumer. There is a difference and your content will reflect that.
In the end, quality content will achieve your marketing objectives. So it's a good idea to define content quality but how much you're getting out of it and not how much cash you're putting into your digital marketing campaigns.
Is your content failing?
Businesses today are producing a lot more content today than ever before. That means that a lot of content you're creating, is simply getting lost within the sea of content!
So how do we tackle this contradiction? You're creating quality content but it's not driving traffic or increasing your sales. In most cases, your definition of "quality" is warped. You know how some of your friends say things like "everything in moderation" and it means absolutely nothing when you find out their true definition of moderation is 6 tablespoons of sugar in their tea?
A lot of marketers have a similar approach to their content unfortunately. They'll evaluate content based on length, spelling, readability and a general definition of value. That simply doesn't work in the real world. The truth is, when it comes down to it, quality content can be defined by…
Content Data!
High engagement vs low engagement. Let the content speak for itself, right? You've got the tools to measure how people are interacting with your work ( and if you don't, get on that immediately!). In the marketing world, there are terms that we use to determine our content by their quality and engagement rate.
The most common measurement of success for content marketing programs is Total Sales

Source: HubSpot
Unicorn content is the content that is in a league of its own and it positions incredibly well in Google. Donkey Content is content that you'd consider average. This is the content that makes up the rest of your non-unicorn content ( which is the majority). Let me expand.
Unicorn vs Donkey
There are many metrics can define actual content that is the best. But if you'd like a general idea, you'd know one important thing. Quality content does the job on every channel. This is where the term unicorn comes in. There are some people who've already had experience with this and know that some content does well on one channel, and unicorns do well on everybody's favorite channels!
Whether it's paid or organic or even email, unicorn content usually tends to convert well. What makes unicorn content stand out is the fact that it's caught that perfect wave. It's remarkably engaging, the idea is authentic and it speaks volume of what your brand is all about.
On the other side is donkey content. This is content where you've put a lot less heart into and hope that one day it'll turn into a unicorn, it won't! So stop wasting valuable funds on content that'll get you nowhere and focus on those unicorns.
Video rules
We can't talk about powerful content without mentioning video. If you've been following my articles now, you know I'm all about video. In fact, everyone is about video.
By 2022, online videos will make up more than 82% of all consumer internet traffic — 15 times higher than it was in 2017

Source: Cisco
It's engaging, it's captivating and best of all, it's only getting bigger. See, we're a visual species. We find moving pictures far more memorable than any other type of content. As a brand, you're looking to tell your story and there's no better way to do it than with video. It's been proven to be the best type of content for marketers and brands are only growing because of it.
There are many ways in which you can implement video within your digital marketing strategy. I've taken the time to write a blog about it. Check it out! The problem is, not everybody seems to be utilizing it. There's talk of it being too expensive as far as production goes or it's simply too time consuming. And my answer to that is, if you're not willing to do the research and realize the true potential of what video can do for your business, you should regroup and rethink your strategy. That's some tough love right there. But if you're still unsure, here's something that might prove useful…
Welcome Videommerce
You can call it a shameless plug if you want. Either way, it's tools to help you create stunning high-quality content at a fraction of the price ( it's even free to start to be honest ) and a fraction of the time you thought it takes to create video.
Videos attach 300% more traffic and help to nurture leads

Source: MarketingSherpa
In 2020, it's no longer necessary to spend thousands of dollars on your video marketing campaigns. Videommerce is an all-in-one video platform that allows you to create, edit and share your content everywhere! The best part is you get hundreds of templates to start from if you're experiencing creators block.
The platform also let's you upload your own content and use all of it's features to make your content shine. That's pretty cool. But don't take my word for it, give it a spin, you've got nothing to lose.
Content has a role to play
With an effective digital marketing campaign, comes high-quality content. It plays a crucial role in the process and it's important to note that this content should always be a representation of your marketing strategy.
94% of marketers use social media for content distribution

Source: SEMrush
Once you create high-quality content that you can use across all of your favorite channels, this is where the fun begins. If it works on one channel, chances are, it'll work on the next and you can reuse it across social media platforms. The advantage to this is that you'll be creating a path towards backlinks. That means having to work less for backlink interactions since your content speaks for itself and it's already driving traffic to your website!
As a bonus, content of this caliber improve the reputation of your website and in turn, ranks it higher in search engines. Which brings us to our next point of topic.
Integrate with SEO
Appropriately identifying your audience and accurately tuning your content that encourages engagement can do you wonders!
And studies have shown that authenticity plays a big role in how high your content will rank. It's never a bad idea to use your business's personality and goals into your content. Consumer decisions are often influenced by emotion far more than logic.
That's why it's important to know your audience and what works for them ( Check out: SEO Tips to make your Video content stand out). When creating content, maintain your brand voice across all platforms ( this means similar color schemes and even the way you write your pieces).
By staying consistent and at the same time by personalizing your content, you'll position yourself as an industry authority. Providing an authentic and positive experience will rank you high amongst Google's algorithm.
Low-quality content
And at the other end of the spectrum you'll find low-quality content. This can affect your google rankings as well unfortunately so be on the look out for the content you make. Usually you'll recognize this content by a few characteristics. Whether the content lacks any purpose, or adds no value for users, you want to make sure you're avoiding this type of content.
Conclusion
You've got all the tools you need to start creating content that is relevant and engaging. Remember, quality content will ultimately determine where you stand within search engine results. As algorithms evolve, so will your marketing strategy.
If you don't know where to start, video is always a safe route. It's effective and it's dominating the digital world. One thing is for sure, it's time to take your content to the next level, you've got the knowledge to do so!
---