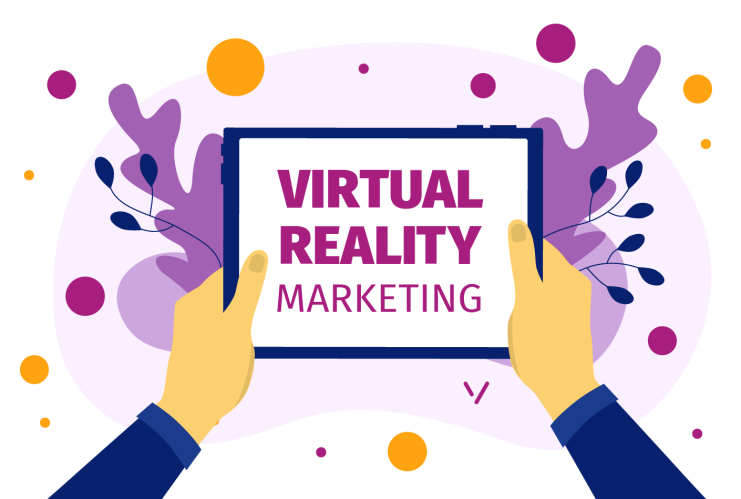 Virtual Reality Marketing
With the every changing landscape of the digital marketing world, what role does virtual reality play in all of this? Consumers are constantly being met with information in the forms of ads how can this growing technology compete?
VR is estimated to generate $1.8 billion in the retail and marketing segments in 2022

Source: ABI Research
Let's talk about virtual reality and it's place in 2020. We'll also talk about how it can be utilized to engage and raise brand awareness on a whole new level.
Tell me about VR
Well first and foremost, it's short for virtual reality. Usually accompanied by a headset, the idea is to immerse the participant in a three dimensional world while at the same time adding interactive elements.
Remember that movie Lawnmower man ( Or even: Neuralink in 2020) ? This cult classic gave people a glimpse into what virtual reality could become if we weren't too careful. Luckily for us, virtual reality right now is mostly being used for entertainment.
Virtual reality is giving people a chance to insert themselves into incredible worlds and become the character in their favorite plotline. Pretty neat right? But what does this mean for the marketing world? Let's find out.
VR vs AR
There are still some people who can't tell the difference. They'll be able to tell when they experience the due, but it's the terms that are confusing people.
Augmented Reality
It's far more likely that you've already interacted with augmented reality. Today it's a widely accessible technology. AR is all about adding the element of digital dimension to your physical world. Think of the instagram filters you often use that turn the world around you into a fantasy world.
In the real world, augmented reality is often being used today in furniture stores to show you how a bed or chair could look in your living room without having to physically take it there.
Virtual Reality
This experience is a little more immersive because you're taken into the world that it created. You'll find that the only way to enter that world is through a headset. it's a 360 degree experience and it takes a lot more work to get this world to function around you to at least make it seem real.
Digital Marketing Evolved
There's a lot of reasons why you will most likely be implementing virtual reality into your digital marketing campaigns. If not virtual reality, definitely a hybrid of augmented and virtual reality.
You've already seen it at work. You know those Instagram filters you're always messing around with or seeing in your stories? That's virtual/augmented reality marketing at work.
Marketers weren't too keen to adopt VR as a marketing strategy not too long ago. It's always been considered to be a simple source of entertainment with a gimmick. Although marketers are slowly catching up and seeing how effective it can be, there's a few reasons why there are still some doubters.
Stagnant sales
The truth is, virtual reality sets aren't exactly falling off the shelves…yet. The reason why companies aren't investing in this technology fully, is simply because there won't be a reasonable return for it. If you're a brand, you want your ROI to grow, that's obvious. Once the technology becomes more affordable, integrating it into digital marketing plans will become far more common.
Virtual reality awareness has dropped since 2017

Source: Verdict
Content
There isn't exactly software out there yet that simplifies the virtual reality content process. This is one of the reasons why some businesses are keeping their distance. Creating quality VR content ( Speaking of: High-Quality Content ) takes time and a reasonable sized wallet at that. As stated above, once the technology becomes more affordable, it'll be easier for people to invest in everything else that propagates it's growth.
There's always Video
If you're not looking to invest in VR anytime soon, that's also okay. The reason being? Video is still supreme (Find out more: Video in 2020) and natural content king. If you haven't implemented video within your digital marketing strategy, well we've got to talk.
54% of all people want marketers to put out more video content

Source: HubSpot
Video is effective at getting the story across and most importantly, it holds the viewer's attention. People are more than ever using video to help them find out more about a product. Whether it's a demo or a testimonial, video provides an experience that leaves the consumer wanting more.
The best part is, you no longer need to break the bank to dish out quality video content. I'm going to recommend Videommerce for a start. Why? Because it's intuitive and it's completely free to start.
If you're looking to create content and looking to take your brand to new heights, this is what you've been waiting for. With hundreds of templates to choose from, you've go no excuses.
By 2022, online videos will make up more than 82% of all consumer internet traffic — 15 times higher than it was in 2017

Source: Cisco
And it's not as overwhelming as you think. If you can use Netflix, you can use Videommerce. We can assure you that the benefits of using Videommerce however are far greater for your business. Let us know how the tools are working out for you!
Benefits
Once the technology becomes accessible to most, what will the actual benefits be of possessing and integrating your digital marketing campaigns with virtual reality?
The number of installed virtual reality headsets is estimated to grow to 37 million by 2020

Source: Statista
One thing's for sure, it'll make your brand stand out. Consumers are beginning to see the technological trend and VR present within a brand image is a sign of innovation and strength. It's an incredible way today to set yourself apart, you're taking a risk and you're also looking into the future.
Sales Perspective
From a marketing and even advertising point of view, it'll help you tap into a new audience. Don't get me wrong, you'll still focus on traditional forms of marketing but with a new emphasis on the growing technology.
And because of the risks involved, not every business is rising to the action which means that once VR becomes the norm, you'll already be ahead of the curve. Imagine seeing products first hand in a three dimensional world before actually making the purchase? That opens a lot of new doors. Not only that but you'll be building trust within the brand. An opportunity for consumers to view how things are made, a literal inside look. Now that's a journey I want to take part in.
The Future
We've weighed out the pros and cons of this technology and where it's currently at. And based on that, we can safely say that virtual reality isn't just a fad.
The augmented reality market is expected to grow to $100 billion by 2024

Source: Cision
Statistically speaking, VR is a technology with an incredibly high potential for growth. That's why big companies are already working hard to develop VR headsets that ultimately wouldn't even need any cables. The quality is also something to aim at with 8k becoming a standard for the future. And with 5G on the horizon, which will allow more devices to be connected at a given time, ( out in many countries but still in it's infancy) who knows where this technology will go.
Takeaway
Virtual Reality is no longer just talks of science fiction and is slowly but surely becoming part of our world. It's growth is undeniable and it'll be interesting to see how companies integrate it within their digital marketing strategies.
Don't neglect this advanced piece of technology as it could become the standard in the very near future. It's a little pricey right now, but it doesn't cost you a dime to keep up with the latest information regarding it's rise and current state. Stay connected!
---