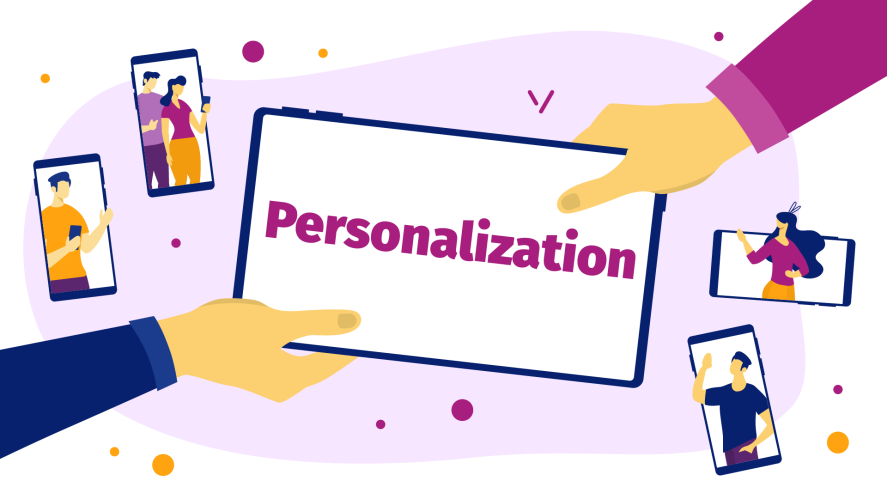 Personalization in 2020
One of the hottest digital marketing trends of this year is definitely personalization. We're always looking to reach a wider audience as a business and this means appealing to individuals directly. Let's talk about ways in which you can personalize your content to maximize your reach and engagement.
77% of consumers have chosen, recommended, or paid more for a brand that provides a personalized service or experience

Source: Evergage
There are many ways to implement a Personalization strategy to help you attract and even retain clients. Ready to beef up your digital marketing game?
Bring you up to speed
If you need a small reminder of what personalization is in the marketing field, let me catch you up on things. Personalization is all about using consumer data. Clients are shown product suggestions and offers based on their previous purchase data for example.
There are many ways to personalize content and some you've already probably used. The technology is only getting more sophisticated and it's allowing for brands to use data like never before. This will create a far more subtle and direct experience for the users which in turn will keep them coming back to you and your brand!
59% of customers say that personalization influences their shopping decision

Source: Epsilon
Businesses of all sizes are utilizing this neat marketing strategy as it builds strong customer loyalty and drives sales like nothing before. There we go, that should give you an idea of what the rest of this article will be about.
A.I. Marketing
If you didn't know, AI already plays a huge role in today's marketing campaigns. It's all about categorization of data sets and extracting the most relevant insights. From there the AI automates the information and does so without any need for human interaction. You've seen this technology play out when choosing what to watch next on Netflix, or listening to your favorite playlists on Spotify.
This personalization technique created by AI is only going to get more advanced as the technology gets better.
Personal A.I
Having said that, how will A.I actually impact marketing personalization? Most notably, retargeting ( Speaking of: Retarget with Video) using AI algorithms. This specifically applies to the e-commerce industry. AI personalization engine keeps track of the visitors behavior and retargets ads depending on their actions.
66% of people get frustrated when a company's shopping cart isn't connected to its mobile app

Source: Statista
Another take is the sharing of personalized mobile content based on real-time events. Customers that are logging onto your mobile app are probably people who are already interested in what you have to offer and they're ready to be taken down the sales path. Today's AI, can monitor this behavior and detect important events such as adding a product to a wish list or cart abandonment. Depending on the event, the AI will send out a personalized notification.
These are just small examples of AI integration in personalization but the picture is clear, it's time to enhance that customer experience in 2020. Building a strong resource of data will help the AI engine learn even more with the ability to be applied to far more extensive strategies. Utilize AI technology to take your brand to new heights!
Build Trust
Research shows that people are all about a personal experience. Meaning, that there's a positive response towards personalized shopping experiences. In a world where the average person is being bombarded with information, it's easy to feel like just another number. That's why it's important for you, as a brand to emphasize a personal touch.
80% of shoppers are more likely to buy from a company that offers personalized experiences

Source: Infosys
Individual needs should be put on the forefront of your strategy, which means putting less focus on profits. That might be difficult to grasp for some brands, but not for you, you know that a human touch goes a long way. This means getting rid of your old system of trying to appeal to the masses with a generic approach. There's no need to bombard your customers with irrelevant emails or forcing a sale with annoying reminders.
Content that's genuine and serves a purpose will also provide a far more transparent experience for the customers. As a brand, you'll get a chance to showcase your trustworthy approach and make current and current customers feel important, and they are. Brand loyalty is big, and it should be one of the things your marketing team is always looking to improve in 2020.
Video Personalization
If you haven't been using video content as your main go-to medium, you're kind of falling behind. If you are, you probably know that video content is effective, engaging and crucial if you're looking to grow your brand.
So where does personalization come in? Easy, everywhere! Building a strong emotional connection with your audience goes a long way in sustaining a successful business, and there's no better way to do it than with video. As far as personalizing goes, there's many ways to apply this strategy with your favorite content. Here's a few :
E-Mail Marketing
Putting a personal touch on e-mail campaigns is pretty stand stuff these days. Now imagine if you were to add video to this method. There are cool ways in which you can spice up your campaigns ( Check Out: Email Marketing in 2020) with video including thanking your newest customers for joining or reminding somebody that their trail is ending soon. Imagine receiving a personal video message reminding you that you've got a week left to use your service? Cool!
Customer Service
Following up is important, and you already knew that. If you're in the e-commerce industry, it's a good idea to reach out to your costumers with a simply personalized video thanking them for their purchase and loyalty.
80% of consumers are more inclined to do business with a company if it offers a personalized experience

Source:AdAge
A great practice is to reach out with personalized holiday greetings. This helps to ensure strong customer relationships and while at the same time, you're solidifying your brand as a company that cares.
Demos and Beyond
If a customer is looking to learn more about your product or service, always offer the option of a demo. A personalized demo will mean a one-on-one interaction, and there's nothing more authentic than that. This gives the customer a look into your hottest products while at the same time it gives them an insight on how things work from the inside.
Video makes it easy for your to build a personal connection with your audience. It grabs attention and it gets people engaged.
Video Tools
We can't stop talking about video and how effective it is. The trouble is, when you're a new business you don't actually want to allocate your budget to video production. And that's a shame, considering the power that video harnesses.
21% of marketers who don't currently use video say it's because they don't know where to start.

Source: Wyzowl
Luckily for you, here's Videommerce. An intuitive and affordable all-in-one video platform. The idea is to give every business of every shape and size the opportunity to create video content at a fraction of the cost and time.
With hundreds of templates to choose from, you've got no excuses! The best part is, you can always upload your own videos and edit away using Videommerce's awesome features. The ability to add narration to your films, as well as dynamic personalization techniques. That and a lot more. The cool part is, it's completely free to start! Give it a whirl.
Website Personalization
A tailored website experience will improve the customer buying journey. Does this mean you need to completely reinvent yourself along with your website? No it doesn't. But it does mean that there are ways in which you can take your website to the next level of personalization.
If you're looking to improve customer engagement, increasing conversion rates (See: 7 Ways to Use Video to Increase Conversion Rates) and building a stronger brand image, you'll want to personalize your website.
74% of customers feel frustrated when website content is not personalized

Source: CMO
This means creating a unique experience to individual customers based on their past preferences and behavior. Meeting the needs of your customers means offering content that speaks on a personal level.
The Future
Technology is making it easier to access and analyze data further which unlocks new doorways to personalization strategies, and in 2020, this is only going to get bigger.
94% of marketers and 90% of agencies agree that "personalization of the web experience is critical to current and future success

Source: Monetate
It'd be wise to invest in analytics as it's going to be a huge factor in providing that personalized experience. Let's be honest, with no data you don't have much to personalize. Algorithms that can identify behavioral patterns are going to be your weapon of choice.
Often the hardest part is getting started, luckily for you, you've probably got more than enough data right now and you don't even know it. It's a good idea to categorize your data and see what works and doesn't.
And Finally…
2020 is all about optimizing marketing campaigns. Brands big and small will invest in predictive analytics in an effort to fuel their personalization strategy and build trust among their clients.
AI and algorithms are only getting more advanced, providing the perfect landscape to start experimenting with techniques to bring in a wider audience, and keep the one you already have happy. You've got the knowledge to start creating a more customer-centric experience, let's put it to use!
---