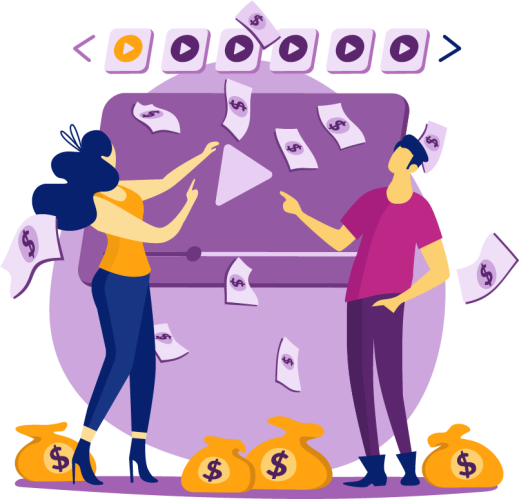 Drive Sales with Video Marketing
Have you ever wondered how to increase your sales? Of course, you have! I guess that's why you started reading this article in the first place.
So… You are running your business, you're your marketing strategy, setting ad campaigns but as time passes you don't really see the impact that they're making? It's time to catch up with the rest of the world and detach from old-fashioned marketing.
Today's world gives us a lot of new technologies and tools to make sales activities much more efficient. Video is one of them.
85% of consumers want to see more video content from brands.

(Source: HubSpot).
WHY VIDEO?
No matter what kind of business you're running, increasing sales is most likely your main objective. That's the golden rule of every company. With no sales you got no money in the bank. So, if your current marketing strategies aren't working or growing stale, I've got a solution for you.
Start producing quality video content!
Regardless of your industry, videos can do wonders for your company. And I promise that there's no magic involved!
Nearly 50% of internet users look for videos related to a product or service before visiting a store.

(Source: HubSpot)
Video are more engaging than typical content you can find on the web. Realistically speaking– who wants to read an article about news shoes from Nike? Wouldn't it be far more effective to present a video showcasing why you should own their new shoes? Yes.
The biggest problem with video is that companies just don't know how to get started. They are afraid of taking a chance. The truth is that you don't even need any fancy or expensive video equipment or production service to start. All you need is a computer and access to a platform such as Videommerce. So, what benefits are you looking to get from this marketing strategy? Here are a few examples:
promote products and services in a more engaging format
increase traffic to your website
add more users to your email list
be more popular on social media
get new channels of content distribution
And here are a few simple marketing strategies to increase sales through video marketing.
ADD VIDEOS TO YOUR WEBSITE
What's the first thing people see when they visit your website? Too much text on your main page can be confusing and unappealing. You shouldn't include long paragraphs explaining how your company operates. Nobody wants to read that.
Focus on short and catchy slogans, topping it off with a video to give your home page to life.
A website is 53 times more likely to reach the front page of Google if it includes video.

(Source: Insivia)
Showing a video to your customers is much more effective. Keep it simple
SEND VIDEOS IN YOUR EMAILS
How about a video newsletter? Sounds cool? You know it! And there's more. You can send personalized videos through mailing to users based on their activities and data. You're running a e-commerce platform? SaaS company? Send videos with interesting products or relative information such as renewal of account subscription.
Adding video to your emails can increase click rates by 300%.

(Source: HubSpot)
It's a no-brainer to employ this strategy, especially since you don't have to come up with brand-new videos for each email. You can use already existing videos from your YouTube channel or social media. And that's another benefit of video emails – not everyone takes part in social, so it's not always a guarantee that they'll see your videos on Facebook or Instagram. Make your way into their hearts through email.
YOUR OWN YOUTUBE CHANNEL
OK, so as I've mentioned above – you can use embed YouTube videos on your website or emails. But first you have to start yourYouTube channel. Piece of cake!
Users view more than 1 billion hours of video each day on YouTube.

(Source: YouTube)
If you're planning to use videos to promote your brand, creating a YouTube channel should be first on your list. Once you add videos to YouTube, it's easy to share them on other platforms. No matter if it's your company's website, social media page or email campaigns. Uploading all your content to YouTube will help you save precious time in the long run.
SHARE VIDEO VIA SOCIAL MEDIA
Social media is a very powerful weapon in the marketing arsenal. So why not connect these two main trends of digital marketing – social media with video?
A Facebook executive predicted that their platform will be all video and no text by 2021.

(Source: Quartz)
Make sure to use your social media to its full potential by posting on social media regularly. This will help you stay relevant in the eyes of your followers. The reason why so many companies don't always post on social media is because they don't know what to share.
Well, if you're adding new videos to your YouTube channel, social media is the perfect platform to share your new conten. And remember – people on social media are a great source of free distribution. If your video is catchy and engaging, they'll more likely share it with their friends.
USER GENERATED (VIDEO) CONTENT
Here's a little fun fact – not all of your video content needs to be produced by yourself.
Try to get your customers involved. You'll accomplish a few things with this method. First of all, you'll get free videos and it'll give you more time to work on other aspects of your brand. Secondly – you'll get more brand exposure if your customers share their videos. And to top it off – it will enhance the experience of your customers and allow them to be the part of your brand.
56% of consumers say User Generated Content photos and videos are the content they most want to see from brands.

(Source: Stackla)
Giving the customer recognition for their work is a great way to get people on board. You can help them become influencers of your brand. You may find out their content is even more creative than yours in some aspects.
Run a contest to get your customers involved. This will create and initiate your fans to create personal videos geared towards your brand!
THE FINAL TIP
Our world is predominately mobile. Just look around. Have you seen all these digital zombies walking the streets, glued to their phones? Use it in part of your marketing strategy.
Make sure that all of your videos are compatible with mobile devices.
92% of users watching video on mobile will share it with others.

(Source: Wordstream)
Platforms such as YouTube, Facebook or Instagram automatically optimize for phone and tablet users.
BECOME THE DIRECTOR
Of course, you can make your own, professional videos. You won't need more than 2 minutes. It's true. Just check out our platform to build, personalize and share videos. Registration is completely free, so there is nothing to lose.
And remember – making money on video content is child's play…
The highest earner on YouTube made $22 million last year. He's 7 years old.

(Source: USAtoday)
---