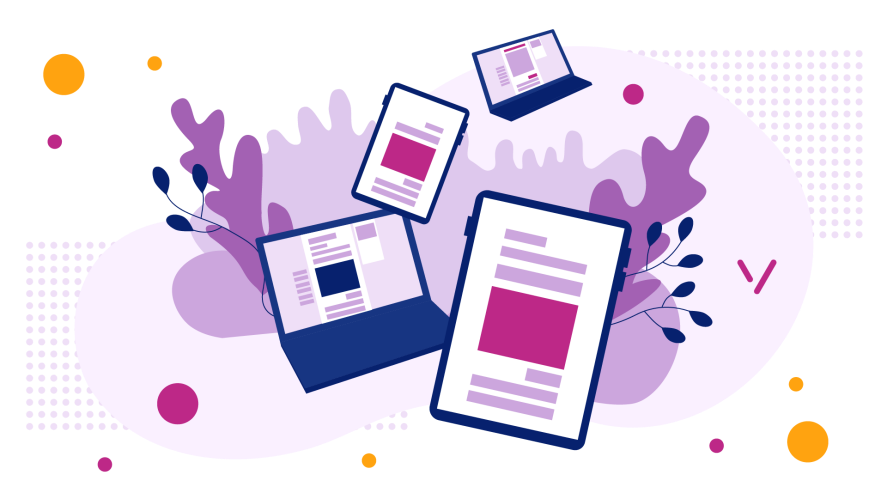 Webpage Design Trends 2020
Quality webpages simply stand out. You've visited them before and the second you step inside them, you feel…right at home. And that's the idea. Let's talk about webpage design and why it's important to stay on top of the latest trends.
If you're looking to attract a new audience, keep people engaged and interested in what you have to offer, it's time to update your webpage design strategy!
Minimal Approach
It's gotten to the point where less is actually more again, and we're happy to see that. A minimal approach is something everyone enjoys simply for the fact that the user experience is intuitive and simple.
But what does minimalism in web design mean? Well, there's a lot of things to consider when touching on the subject. But the first thing that probably pops into your head are minimal forms of content, and a limited amount of text that capture your story.
Design has a 75% influence on a website's credibility

Source: Web FX
Today, minimalism is a way to grab our miniscule attention spans. We are constantly overflooded with information and our brains sometimes don't know where to begin. A minimal design forces you to focus on what's on the screen no matter what. It's engaging and it works.
So instead of writing a novel on your home page about how great your business is, why not implement a graphic showcasing what you're all about with a sentence to summarize it? Remember, making a functioning minimal website takes work and some serious planning. Also remember that if done correctly, you'll be surprised the amount of new leads and traffic you'll get to your website.
Black and White
Which brings us to a black and white design. If you're overwhelmed with picking out the right color palette for your website, why not just go the minimal route with a classy black and white finish?
Paired with a nice gray, this style creates an elegant and sleek take on a website. But don't just count on text and backgrounds to do all the work for you. Because black and white is rather dull in itself, include quality images and videos in that same color scheme to go with your design.
The Right Text
The type of typography you use isn't entirely a new trend, I mean brands all have their favorite fonts right? Today, especially in 2020, companies are using big and oversized fonts to communicate with their audience.
This means prioritizing bold and fonts that stand out. These enlarged elements grab immediate attention and there's nothing wrong with that. Additionally, bold font just looks great on any sized screen. Just remember what we practiced earlier, less is more. Don't overwhelm your audience with large text all over your website. Make it shine with a nice contrast.
Because let's face it, sometimes words speak louder than a photo, and in those times bold and big fonts just makes sense.
74% of users will likely return to mobile-friendly websites

Source: Web FX
Don't forget to properly size the font on all of your devices. Because it might look great on your desktop, but don't neglect your mobile devices!
Video Strategy
Let your videos speak for themselves. As mentioned above, with a minimalist design, you can allow your quality content to do the talking. Less text, more moving pictures! There's nothing better than video when it comes to effective content.
Pages with videos keep users on them for 88% longer

Source: Web FX
I could go on forever talking about why video is so engaging and why businesses are turning their strategies upside down to implement it ( so check this out : 6 Engaging Types of Video Content )
And don't worry, you don't need to have an incredible budget to keep up with quality video content. Today, the advancement in technology has made it so that businesses of all shapes and sizes can dish out quality videos in no time, in fact…
Videommerce
Here's something you could use. It's an all-in one video platform that puts you in the drivers seat of your video content. Don't worry, it's incredibly intuitive and all you need is a vision to get started, you've got one right?
It's completely free to start, and that's pretty cool. Why not upload your own videos and edit them to your liking? Choose from hundreds of templates, voice narration, dynamic personalization and even interactive elements. That's right. There's nothing better to grab your viewers attention. Start driving traffic and increasing sales, you've got the tools to get started!
Layers
Overlapping layers are in right now if you haven't noticed. Elements that give off this floating feel is something that grabs our attention, don't ask my why but it works!
The best part about implementing layers is that you can integrate it with almost any website design that you've already started with. Overlapping backgrounds, videos , images even text. But make sure there's a certain energy to it, you can't just overlap for the sake of overlapping, that's silly and could spoil your entire design.
Consistency
A little tip before we go any further. All of these website design trends are definitely here for a reason. They're effective in keeping the viewers attention and they guide them through your website. Helping them get where they want to go, without any odd distractions.
48% of people cited a website's design as the number one factor in deciding the credibility of a business

Source: Blue Corona
This is why consistency is key. And what does that mean from a website design point of view? It means not overwhelming your audience with over the top graphics or elements that don't flow together. Just like with everything else that we've mentioned, it's an artform and it'll take you some quality time to plan this out.
Consider the colors you use, consider where you stack your images, consider where you leave open space. All of this could be the fine line between having a customer stay on your page for 2 minutes longer, or immediately scaring them off because of your design.
Dark Mode
If you're like me, you love any website or app that has this option. It's so easy on the eyes! It's such a powerful UI design yet so many brands neglect it and I ask myself, why?
The benefits include a more elegant and sleek look while at the same time, it saves your battery if you're on mobile. There are too many advantages of integrating dark mode within your website but my favorite has to be the fact that it causes far less eyestrain.
8 out of 10 consumers would stop engaging with content that doesn't display well on their device

Source: Ironpaper
Dark Mode is getting more popular than ever, with all of your favorite apps utilizing this design, it's catching on and so should you!
Conclusion
So there we have it. Some of the latest trends to help your website stand out in the quest to…stand out. There are certain elements that could make or break your website so consider A/B testing your websites as well.
The key is to find elements that will set you apart while at the same time making it a pleasure to visit your website. At the end of the day, that's what's going to determine if the viewer takes the time to stay just a touch longer to explore further.
Don't forget that a fast-loading website will outshine a magnificent design any time of the week. People want things right now and this instance, and it's your job to create an experience worth taking!
---