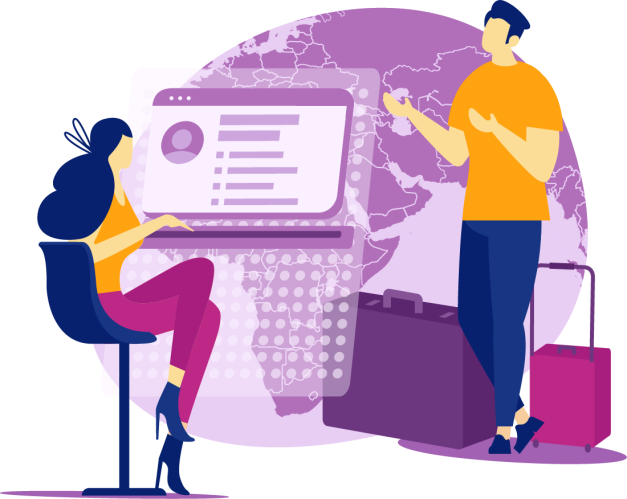 Travel Agencies, email could be your ticket!
Whether you're an online or independent travel agency, you probably already got an idea of how you want to conquer your market. Having said that, I'm here to underline and showcase some strategies you might want to consider from here on out to help you grow. Brand exposure, positive customer relations and sales profits. The most important keys to keeping your business afloat. Sound good? Let's go!
To date, almost 90% of travelers worldwide admit that standard traveling process is not enough any longer

Source: Medium
Have you considered email?
With the competition as fierce as ever, you'll need to stay ahead of the curve. So I ask you, why not give e-mail marketing a chance? We've already gone over the benefits of implementing this marketing strategy ( https://videommerce.com/blog/how-to-improve-your-emailing-strategy-with-video/ ) but this article will focus primarily on Travel agencie's like yourself. You're looking to build long lasting relations with your customers, right? There is numerous ways to use this medium to your advantage.
How do I get started?
Before you can start inspiring your customers, you'll need to compile a list of who you're going to contact. This can be easily done using embedded forms on your website (such as signing up for a newsletter) or a basic website pop-up enticing your guests to "find out more" or "check out our latest deals" prompt. That'll get you on your way. Need a few ideas for incentives to get the ball rolling? Here you go!
A free E-book
Exclusive V.I.P information regarding deals
One-Time only discount
Subscribers are basically your followers. They are your most loyal readers considering they took the time to actually input their information. If you develop an email strategy that keeps them happy, they'll always be coming back for more. Things are looking good, let's see how we can expand on this.
The Content
So you've probably got an array of ideas popping into your head now of what you can do to start building this relationships, yeah? No? No worries, I think I got just what you're looking for! The addition of beautiful footage pertaining to your customers favorite locations will do wonders.
36% of travelers would pay more for a travel brand's service if it tailored its information and overall trip experience based on their personal preferences or past behavior

Source: Google
Personalization is huge (find out more here: https://videommerce.com/blog/how-does-personalization-affect-your-video-marketing-strategy-for-the-better/ ), it builds an emotional connection with your customers. Anything from personalized tips on how to travel on a budget, personal travel stories and more. To get you started, why not a personalized greeting to introduce yourself?
The share of U.S. consumers who find marketing content personalization "very" or "somewhat" appealing is 90%

Source: Statista
This is the part where I tell you about Videommerce and how we basically specialize in personalized videos. Within a few clicks of a button, you'll be making quality personalized videos. Get started right now!
Frankly speaking, if the content is relatable to your customer, they'll be a lot more willing to actually plan and book a future trip.
How to grab attention
As far as the actual content goes, grabbing your customers attention is key. Traveling is all about experiences and life time adventures, your job is to capture that with the content that you put out.
Posting links to your interesting blog regarding certain spots of the world can also enlighten your audience. It doesn't have to be an over the top analysis of a city, but just enough to give the reader a taste of what is to come should they decide to visit! Because at the end of the day, you're not just selling tickets, you're selling adventures.
Email subject lines that are personalized generate an average of 50% higher open rates

Source: Oberlo
Don't forget to spice up the subject line, it really makes a difference!
Remember…
Even though you think you've already got a decent gameplan, a well thought out personalized email campaign can go a long long long way. You're in the business of making your customers happy and engaged. As an agency, it is your duty to keep your audience always thinking of you before a trip and after. Why? Because you provide them with the tools and offers to fulfill their passion in life, something that is taken for granted these days.
---