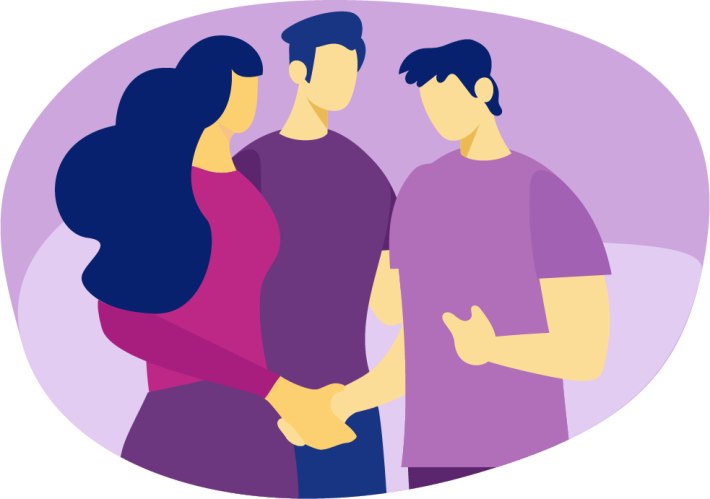 Make Engagement Personal
In today's technologically run world, part of the engagement effort requires brands need to communicate with their customers in real time. A personal experience that ultimately builds greater relations and trust. There are numerous ways to show you care, because you do, and in this article I'll be covering the basic findings and how emphasizing engagement from a personal point of view will benefit your brand enormously!
Treat others as you'd like to be treated
A golden rule often taken for granted. The good news is, you can apply it to your marketing and sales strategy and reap the benefits! Treat your customers as individuals and not as numbers.
70% of buying experiences are based on how the customer feels they are being treated

Source: Neosperience
In short, the experience is the focal point when differentiating yourself from competitors. With an individualism mindset, the customer becomes the centerpiece of your business. And at its core, you'll slowly but surely shift your image and strategy towards nurturing that aspect. Don't force it, and it'll all come together. I'm sure there's a life lesson in here as well!
How did it get here?
Well, the customer experience has simply evolved over time. At one point, customers had 3 ways in which they could communicate with companies. A personal visit at the business location, call customer service or write a hand written letter. And then IT happened…
The internet
Faxing, email, chat all became a reality and a revolutionary part of the customer experience. This made everything a little bit more personal for many. Needs and demands were to be filled, customers wanted attention and they wanted it now!
87% of customers think brands need to put more effort into providing a consistent experience

Source: Accenture
There's a whole dance associated with keeping your customers relatively happy but it should never come at a cost of your brands image. Meaning, although every customers has their needs, you should always stick to the same principle when dealing with your base. An approach that will value the relationship and build upon the trust that is at the core of your brand.
Consistency is key
Remember, when communicating with customers, engaging and so on, you represent your brand as a whole. The customer doesn't care if this is through email, or chat, you need to stay consistent.
72% of customers will share a positive experience with 6 or more people

Source: Slideshare
Conflicting interactions could hurt your image. Once again I'm forced to bring it back to the golden rule. Simply treat your customers, as if they were (because they are) the center of your business strategy.
A personal touch
What's a great way to make your customer feel valued and appreciated? Making the engagement with them personal (bringing it back to the title). And what better way to do that then with personalized video content. Without going into "commercial mode", I'll do my best to past on the this next piece of knowledge. Video content will go a long way in helping you maintain long lasting relationships (3 words: Video Boosts Engagement), and be an essential tool in your arsenal. Videommerce helps you make videos fast without compromising the quality. Video content goes a long way in email campaigns (How to improve your emailing strategy with video!) as well. A personalized experience should be within the strategy plan of every brand looking to emphasize customer satisfaction.
Let's bring it all back
To sum up, the way in which companies engage their customers is constantly evolving. From personal company visits to email, every form changes the dynamic in the long run. However, if you intend to grow your business today, a consistent and heartfelt approach is best received. Once you get to know your audience, customers, you can use that knowledge to personalize every interaction. With the rise of social media, customers have more power than ever to affect whether you stay afloat or not ( Take the United Airlines case for example).
Interaction with your company should be smooth, evolving and pleasant. Once you've got that covered, you WILL drive brand loyalty.
Now get out there and be the kind and awesome person that you are!
---