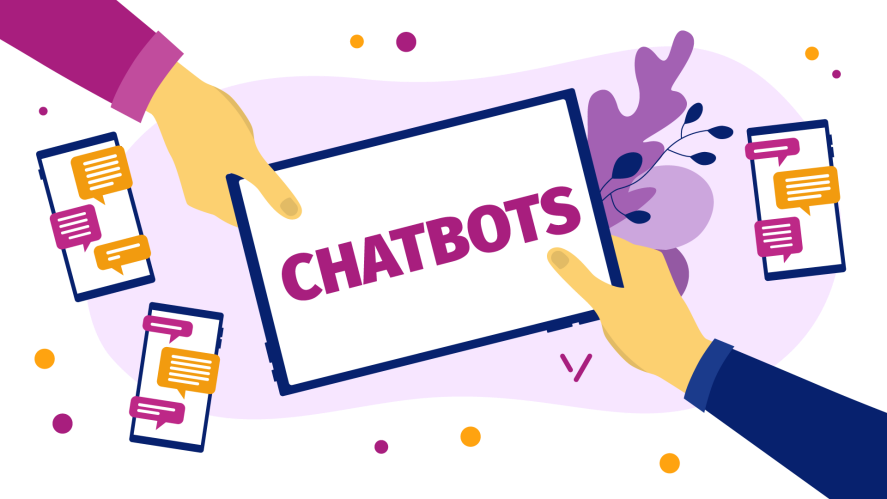 Chatbots 2020
Their role in the marketing world is getting bigger by the day. Businesses are constantly looking at ways to grow their business in innovative ways and chatbots have definitely been making a name for themselves.
Artificial Intelligence technology is getting advanced by the minute and it's changing the way brands are interacting with their audience. Let's step inside the world of chatbots and what it can do for your business. Let's go!
What's the purpose?
It's a program that let's us humans interact with computers (or chatbots) using multiple methods including voice, text and more. If you're like me, your first experience with a chatbot was probably during a customer support interaction with a company.
Chatbots can answer 80% of standard questions

Source: IBM
The idea is to provide assistance to people who need it right now in this very moment. That's why typically, when they first arrived, chatbots were used as a form of FAQ. All about answering the questions you needed answers to.
As time went on, the technology got more sophisticated. In the way that you could now order an entire pizza from the comfort of your mobile phone.
Benefits
There are many different ways that a chatbot can be implemented within an industry, let's take a few ways in which chatbots are revolutionizing the way businesses are functioning.
Chatbots can cut operational costs by up to 30%

Source: Chatbots Life
Let's see what other ways your industry can benefit from this.
Travel
Agencies make use of this technology by allowing chatbots to find the best suitable trips for their customers. It's not just that however. You'll be able to book a hotel and even buy airplane tickets to go along with it. Depending on where you're going, they'll also give you a little rundown of the weather you should be expecting, pretty neat and useful.
E-Commerce
Here your experience will be far more personalized (Check out: Personalization in 2020). Chatbots help you choose items you've already looked at or something similar that might be of interest. In the end, you're likely to find out everything you want to know about a product, and buy it all within the same window. Cut out the middle man and just get to it!
Finance
Account status, balance and more within your favorite bank app. You've already used it so you know how this works. It's quite intuitive right? Who would of imagined that we'd be so trusting of apps moving and handling our finances.
Real Estate
In this business, chatbots work mostly to catch the most important leads. That way sales managers have to spend less time answering questions and gaining more time to strike a deal. Houses are an extension of our soul many would say, so you wouldn't be surprised that chatbots also provide a personalized experience when dealing with customers here.
The real estate industry is the most profitable field for chatbots

Source: Chatbots Magazine
Chatbot ROI
So you've seen how these things function within a certain industry, but where's the real benefit?
Sales
The new generation expects things instantly, they're impatient and want things right now. Which is why consumers expect a personalized and fast response when it comes to live chat. Catering to this will deliver impressive returns as far as sales go.
Millennials are about twice as likely to use a chatbot that acts as a personal shopper compared to age groups older than them

Source: Facebook
Chatbots have become a crucial element to a lot of businesses because they simply work in today's times.
Customer Service
It's the first area where chatbots started becoming the norm. Some companies have been already integrated this technology for more than a decade!
8 our of 10 of consumers who have engaged with a chatbot report it as an overall positive customer experience

Source: Uberall
We're at a time now where the advancement in technology allows for incredible response times as well as increasing customer support satisfaction scores. It's all about managing time. It's like having a special member of the team that allows you to focus on the bigger picture of your business.
Latest Trends
There's a reason why chatbots are on most lists when it comes to digital marketing trends in 2020. They've been a regular powerhouse since being implemented with Facebook in 2018 and they're only getting bigger. Let's take a look at some of the things that are changing the game when it comes to chatbots.
Deep chatbot behavior
Developers have recently been pushing sentiment analysis technology towards chatbot use. What this means is that the bots are being trained to be more human in the way they interact with us. Kind of cool. But how does it work?
While you're engaging in a conversation with the chatbot, it's recording your discussion while at the same time using sentiment analysis to figure out the mood you're in. In this way, they'll be more likely to modify their responses to align with your current state of mind. So in turn, angier customers lets say, are steered towards the correct team to dispute and settle an issue in a far more effective way!
Voicebots
Voice technology in general is already catching on and becoming the norm ( find out more here: https://videommerce.com/blog/voice-seo/). There's a lot of data that's showing that more than half of searches will be done by voice by this year.
It's all about providing a seamless experience. We like that word today right? It means you can take your audience to where they want to go with a far more intuitive approach. At the same time, voice allows for personalization opportunities that helps in keeping the customer happy while at the same time building trust towards your brand.
Human after all
Sentiment analysis ( as stated above ) and predictive AI will lead to chatbots becoming more human. There's still a few challenges that mean we aren't there yet including difficulty in understanding certain accents. But once the appropriate work is done, it's only a matter of time before it'll be hard to tell if you're talking to a chatbot or a human, and that's kind of freaky.
15% of consumers prefer chatbots to humans for a quick interaction with a company. 87% of consumers still prefer interacting with a human than a chatbot.

Source: Intercom
Which means we aren't convinced, yet! But times are changing and with the technology picking up, it's only a matter of time, as stated, that we won't be able to tell the difference.
Video can't hurt either
The thing is, a lot of these chatbot onboarding systems are also starting to implement video within their strategy. Now that's amazing because as you know by now, video reigns supreme when it comes to content. We love video because it's easy to digest and it grabs our attention.
There's tools out there to help you dive into the video world in case you're wondering. Videommerce is completely free to start and it offers a wide range of features that could take your business to heights you didn't think possible.
There's a lot to work with, seriously. Choose from hundreds of templates in case you're in a hurry. Upload your own videos and start editing away. You won't believe the things you can do to your videos. Dynamic narration, personalization, and more! Don't take my word for it, give it a test run, you've got nothing to lose.
Conclusion
In 2020, chatbots are starting to finally in the limelight. We've accepted their potential and businesses are starting to put them to incredible use. It's all a matter of what your brand wants to use them for.
Chatbots save time and money, allowing you to focus on all other aspects of your brand. This is one of the biggest reasons why companies are starting to integrate them within their business strategy. It also helps generate leads in ways you didn't think possible. Guiding it's customers to incredible outcomes because of the information that the bot is able to produce. You're just a few clicks away from finding out the latest about your favorite product, and clicking the buy now button.
It'll be interesting to see how chatbots evolve over time, they're already becoming eerily human, how will it look in the next 5 years?
---