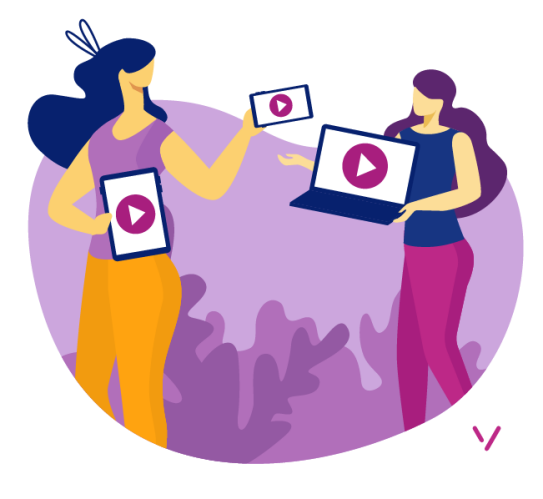 A/B testing for video marketing!
This one's going to be an interesting one. I'll help you understand the importance of A/B testing and how to properly strategize so that you can get the best out of them. In the process, you'll learn to improve your conversion rates! Now doesn't that sound cool?
Don't you mean split testing?
That's what I said didn't I? Oh that's right, A/B testing is also often referred to as split testing. The way it works? It's essentially a marketing experiment where you compare two versions of something to determine which one will produce greater results!
Strategizing
What's your goal and what are you aiming for? CTR increase? Views or just shares in general? Once you've selected a goal, you can strategize around that idea.
Remember that split testing is very similar to an actual science experiment. And in order to truly see which hypothesis is working, you'll need to keep every variable other than the one you're testing for the same in both tests. What does that mean? Well lets say you put out an Test AD 2 at 11am on a Tuesday, and the next Test AD 2 shows better results but you put it out on a Sunday at 3pm? How will you know what contributed to the results?
Why even test?
With proper A/B testing, you're systematically eliminating any chances of failure down the line. What does this mean? Campaigns featuring your videos will be much more efficient and help boost sales down the line. So instead of having to estimate what works and what doesn't, you'll be en route to correctly predict where your brand is headed. With that comes the bonus of being able to focus your energy for things beyond marketing.
Let's apply that to Video
There's a stigma around A/B testing for video. Without beating around the bush, video is seen as expensive and time-consuming to produce. So the idea is that it's harder to create multiple versions of a video for testing. But the truth is, split testing for video is a lot easier than you think!
81% of businesses use video as a marketing tool — up from 63% over the last year. 

Source: Hubspot
As a must have for marketers, video is the medium that'll skyrocket your brand to heights you didn't think attainable. If you're already A/B testing everything else (website, design etc) you need to make it a priority to A/B test your videos as well. Why? To maximize your ROI. ( Related: Video and ROI. A match made in heaven. )
What to test?
So you've got a basic idea of what you want to test but now you're looking for ways to test the right parameters, correct? I've compiled a small list of things you can test in case you just don't where to begin.
Video Length – Simply cutting out a few seconds or a section of a video can be the deal breaker. That way, let's say you cut off the first 5 seconds, you automatically create 2 versions of your video. From there, present both videos to your audience and see which one increases your conversion rate. You'll be pleasantly surprised how quickly you'll find the answer.
CTR – Or, Call to Action. Within you're video, you've probably implemented an element where the viewer can click. Change the location, mix it up, use a different font even color. But makes sure you test one element at a time, otherwise you won't know what caused the positive or negative impact. ( Related: Using Video to boost your Click-Through Rate! )
Location – Placing your videos in the right place can make all the difference. In this case, I'm talking about your homepage. Mark these locations "test A" and " test B" and begin by measuring the amount of viewers who watched each one and the conversion related to it. Change one element at a time to get a better grasp of the results!
Including a video on your landing page can boost your conversion rate by up to 80%

Source: Unbounce
Description – Yes, even the description of your videos (YouTube) can have great effect on the way your audience perceives your content.
There are numerous other ways where you can apply A/B to effectively test your videos but these should get you going in the right direction!
OK but where!
Facebook – Most of you will be using Facebook as your primary platform when it comes to video content so you'll need to make use of their Facebook Ads Manager to run 2 versions of the same video.
75 million people visit Facebook's video platform every day.

Source: Adweek
YouTube – Sadly YouTube doesn't have an interal system to split test, but there are other third party apps out there that do just that. Try TubeBuddy, it's a popular one among marketers.
As a nice little surprise
Creating the right content is time consuming and costly. Luckily for you, and as part of a shameless plug, I'd like to introduce you to Videommerce. An all-in-one video editor that helps you create stunning videos in minutes. The best part is, it's entirely free to start. Take your creative ideas you've already been aching to put into action, and do just that with this one of a kind editor. Don't take my word for it, try it.
Test Test Test!
A/B testing doesn't have to be a chore. I've detailed how easy the process can be but most importantly, how beneficial it is for you and your brand.
Video is expected to make up 82% of internet traffic by 2021.

Source: Cisco
Video content isn't getting less popular, which means you'll need to test what works for you. Rising to the top of the market thanks to clever testing of your video content could be in your future, provided you follow the advice above! Above everything else, be imaginative, stay consistent and with proper fine tuning, you'll see that A/B testing can be your finest tool in the marketing field.
---