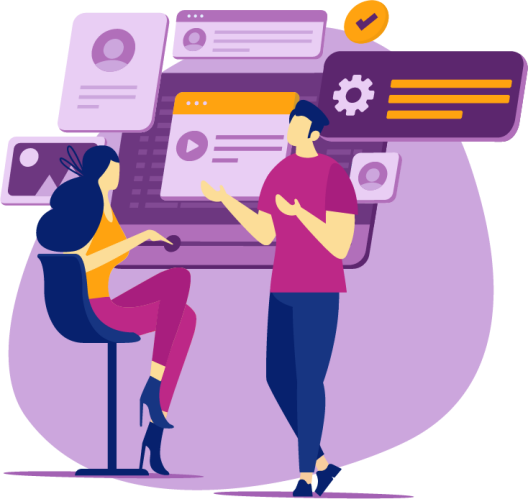 Video Boosts Engagement
Content engagement is one of the most important metrics companies use when discussing their marketing strategy. In this article, we focus on video content and the impact it has on your engagement rate.
My engagement rate is fine! Leave me alone!
Alright, so you've become accustomed to ways in which your consumers interact with your product. Everybody has their "special" way of calculating this parameter. For the purpose of this article, we'll focus mainly on reactions, shares, comments, impressions, views and so on.
What if I were to tell you that simply adding video content can tremendously increase your ER?
Facebook videos notch more than 8 billion views daily.

Source: The Verge
That sounds like a number that you'd like to be a part of.
The answer is video
As discussed in our previous articles ( How does personalization affect your video marketing strategy for the better? ) , there are numerous statistics showcasing the importance of video in attracting your current and future audience. In case you're too lazy to check out the article above, I'll need to assemble a few stats to get the ball rolling.
Animated explainer videos increase conversion rates by 20%

(Source: Unbounce)
An increase in conversion rates? Yes please.
Average viewer remembers 95% of a message when it is watched, whereas only 10% when read.

(Source: Insivia)
So you're telling me that video gets the message across a lot more effectively? I like that.
Having a video on your landing page can increase your conversion rate by 80%

(Source: EyeWideDigital)
We're back to an increase of conversion rates again, are you starting to get the picture
So what kind of videos should you include?
All of it. *Gathers a big breath* : Educational videos, How-to videos, Social Media Campaigns, Explainer videos, Product videos, Testimonial videos, Company story videos, FAQ videos. Just videos!
Lets wrap this up nicely
The future is video, as you've already discovered by now.
By 2021, it's predicted that 80% of all internet traffic will be video.

Source: Tubular Insights
Boosting engagement rate isn't as simple as adding video content, as the quality matters as well, but that's a whole different article for another time. That being said, if you're looking for growth and a head start, Videommerce lets you create stunning videos in minutes. We're simply providing you with the stepping stones to pushing your brand to new heights.
---