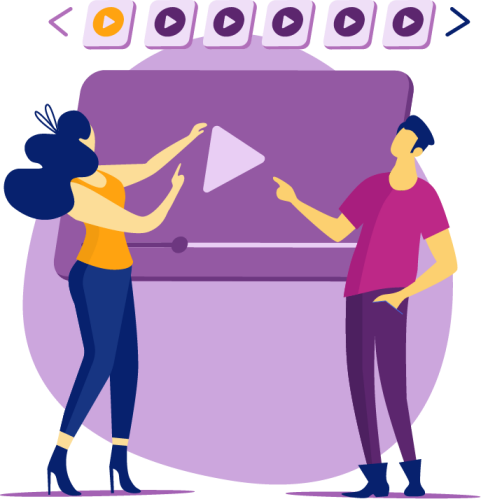 Personalization in Video Marketing
Wouldn't it be cool to be unique within your market? Special and ahead of the pack? Well it's entirely possible, provided you take the appropriate measures.
90% of consumers find personalized marketing content very or somewhat appealing, with just 4% saying that they find it not very or not at all appealing (Source: Statica).
PERSONALIZATION? WHAT'S THAT?
Personalization is not entirely a new marketing trend but it is increasing in popularity day by day. Lets face it, customers are always looking for new and attractive solutions to their problems. Getting their attention with old-fashioned display ads or typical newsletter messages, is a thing of the past. We are stepping into the personalization era where every user is treated on an individual basis.
Marketers see an average increase of 20% in sales when using a personalized web experience (Source: Triblio).
There are many advantages of personalized marketing, for both businesses and consumers. Customers are more comfortable providing personal information to their favorite brands if they get something in return. With all of this customer data being offered, the consumer expects brands to protect any sensitive information and offer more personalized experiences when they return. On the other hand by identifying and responding to the preferred channel for each customer, companies can increase their ROI.
When consumers provide information and data, they expect to be treated as unique individuals with specific preferences. Companies that dedicate their sources to implement successful personalized marketing strategies will benefit from a competitive advantage in both brand loyalty and customer satisfaction.
Personalized emails produce 6x higher transaction rates (Source: CMO).
PERSONALIZATION EXAMPLES
There is a lot ways to add personalization to your advertising. An effective one is product recommendation. This type of campaign uses data collection to determine what type of product, service or offer a user is most likely interested in. There's no lottery in displaying ads to these users – everyone gets what they are looking for.
Another popular personalized marketing solution is targeted email campaigns. Through personalization, marketers can create and send individualized emails to a specific group with certain needs. Getting a better understanding of an audience is key to increasing the relevancy of email content. One way to start collecting customer information is through sign-up forms. When someone signs up, they would fill out a questionnaire with details about themselves that could range from their birth date to particular interests.
Personalized CTAs, result in a 42% higher conversion rate (Source: Triblio).
WHERE THE VIDEO COMES IN…
How about baking two roasts on one fire? Another popular marketing trend in today's media is video marketing. You can see videos almost everywhere…
Facebook generates 8 billion video views on average per day (Source: Social Media Today).
Video is one of the most growing trends of the last few years. Users are more likely willing to engage when companies are using videos in their marketing solutions. You don't believe me?
By 2019, global consumer Internet video traffic will account for 80% of all consumer Internet traffic (Source: SmallBizTrends).
So how about connecting the two great features – videos and personalization?
ONE PLATFORM TO RULE THEM ALL
First, you need to register (it's free!) to Videommerce. Videommerce is a video creator and personalization platform. It integrates with marketing automation software and CRM database to feed data into the video creation processes. Our Platform allows you to insert personalization features in strategic spots throughout the video. These features are linked with stored data, for example – name, job title or place of living. You can also add pre-recorded voice narration to your videos. You can choose what you are interested in or let the algorithm choose the right narrative for you!
61% of consumers felt more positive about a brand when its marketing was personalized. Furthermore, the same survey found that consumers were 53% more likely to purchase when a brand personalizes digital communication (Source: Ipsos Observer).
So what are you waiting for? Register for FREE and personalize your first video!
---