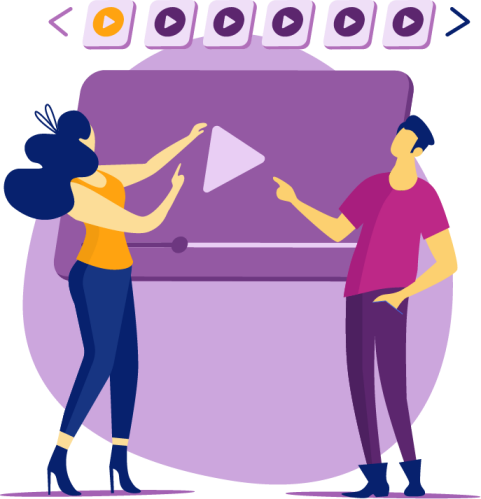 Facebook Watch – Inside Look
Video Rules the World of Social Media
It's not a surprise that video content rules the internet. And the big brains of Facebook know it too. Video takes up the majority of content placed in posts on today's social media. Users are more likely to engage in this type of content; they are also happy to share it.
YouTube has set trends for a long time ago and now it is time for Facebook to become a significant player in the digital video playground.
YouTube has 23,946,561 subscribers (and counting!)

(Source: SocialBlade)
POWER OF VIDEO
Facebook has become envious of YouTube for a while now. And there's nothing strange about that. Video content is becoming more popular with every year and users are more likely to log in to YouTube to watch their favorite channels than read a boring and same-old text of their friends. And honestly – who wants to keep watching cats, holiday and babies' pics?
Social media posts with video have 48% more views

(Source: HubSpot)
To put it simply, Watch is Facebook's answer to YouTube. After clicking the Watch button or going directly through the browser you'll find videos from pages you follow. It works similar to YouTube's channel list. There are no more people's status changes, pics shared, or place check-ins. Watch gives us a solid dose of video content to watch.
In theory, it's a great idea. But after years and years of YouTube's dominating the video world, Facebook has some catching up to do. Currently, YouTube is the first choice of users who want to watch interesting videos on the web.
65% of people use YouTube to help them solve a problem. Want to build a house or remove weird parasites from your eye? YouTube might have the answer

(Source: Google)
SO, WHAT'S THE CATCH?
Facebook wouldn't be itself if it consisted in copying proven schemes. So, what makes Watch special? Facebook is focusing on more social solutions for their platform as opposed to Google's video service.
One of the unique features of Facebook Watch is Watch Parties, where people from different places around the world could stream online videos at the same time. Want to watch a football match with your friends or fans from various locations? No problem, you can do it with Facebook Watch. There have been over 12 million Watch Parties in Facebook groups, contributing to eight times more comments than standard videos in groups.
Facebook has over 8 billion video views per day

(Source: TechCrunch)
HOW'S THE FUTURE LOOKING?
As mentioned before, Facebook has a lot to do to promote their streaming services. Facebook Watch has a minuscule viewership compared to YouTube, but that doesn't mean it's not living its own life. Every day, the website is visited by 75 million users, who spend an average of about a minute on the site.
There are lots of premium streaming services on the market. To name a few – Netflix, Amazon Video, YouTube Premium. Those players are purchasing the rights to films and television shows, as well as funding their own exclusive video content. Will Facebook Watch stay afloat? Time will tell. They had struck a deal with 20th Century Fox Television to stream the television series, Buffy the Vampire Slayer.
Want to become a video producer and add your own inspiring and influential videos on Facebook Watch and more? Start our free plan now or contact us for a live demo!
---