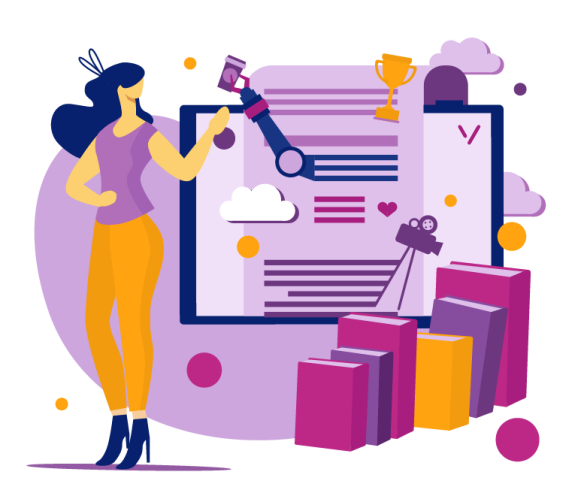 Storytelling and Video
As a brand, your story serves as a crucial piece to linking your vision with your audience. But how do you tell your story? This is an art form that requires a vision, creativity and skill. And just like every skill, it takes practice to master it. Which means in order to get it just right, you'll go through a lot of trial and error before your story speaks for itself. Storytelling is a tool not to be underestimated. I'll be going over ways you can present your brand story and how to apply it to your business strategy, using video! Let's go!
So what's storytelling?
If you want to get literal, it's the act of conveying events in words, images and other mediums. Crucial elements of storytelling are things like the plot, and narrative point of view. In many ways, storytelling provides useful information in its narrative. But better yet, it is what your brand stands for. It's emotional and engaging but most importantly, it's the interaction between your customers and your brand.
Everyone can tell a story, but how do you do it in a way that it leaves a lasting impression? I'll go over that as well! But before we tackle that subject, let's explore WHY we even tell stories in the first place. This is a question worth discussing.
Tell me why!
Humanity has always shared great stories since the beginning of time. In an effort to pay tribute to life itself, stories give the chance to express our struggle to live and survive. In short, stories bring people together as humans. By telling a good story, you tap into people's emotions and inspire and in turn, motivate towards an action.
A great brand story helps humanize you as a company.
Let's break down a good story
Stories are usually categorized into either good or bad. But for you to get a better understanding that a story is much more than just black or white, here's how to recognize what exactly makes a good story good…
The good!
You'll notice that stories you've enjoyed in the past are usually entertaining. They keep you engaged and wanting more. Additionally, a good story sparks your curiosity, makes you think. But most importantly, you want your readers to be able to relate to your story. That way, the story is memorable and it sticks in their mind's for a long time.
The Key elements!
The standard recipe for a great story as we learned in Middle School. Characters, conflict and resolution. The character needs to relate your audience back to the story, he's the bridge between you and the audience. The conflict plays as the lesson and shows how the character overcomes an obstacle. Conflict elicits emotions and connects the audience through relatable experiences! Resolution? The story needs a good ending. This leaves your audience with a CTA.
The Future Is NOW
Putting it all together, brand storytelling is the narrative that weaves together the emotions that your brand is trying to evoke. Besides the fact that you're providing your customers with reasons to subscribe or purchase your product, as a business it is your duty to start talking about the story behind what makes everything work!
Needle in a haystack
The market has become over saturated with businesses. Big businesses are spending big dollars for attention in various ways. The internet helped small businesses catch their audience but now it's become far more difficult for brands to stand out.
You need a lot more than just a service. Sure you can provide your customers with testimonials and statistics but in today's world, you'll need a lot more to stay relevant and important. A memorable brand stays in peoples heads, remember that. This is the one variable that you have on other brands, YOUR story.
So you tell yourself, what do I want my business to be known for? What's the message that I'm trying to convey and why? Every time a customer interacts with your business, it's your job to evoke those very emotions. The customers will always remember how you made them feel.
Video hope
Videommerce! What is it and why did I start a new paragraph in this manner? Well, it's an all-in-one video editor to help you tell your story. How? Well, it comes with templates to suit your business needs as well as the ability to mix up your scenes in various ways. Change the font, change the images, change the music! And with over 10,0000 per-recorded voice narrations to choose from, you'll have no trouble conveying your brands message! Are you ready to increase your CTR, save time and produce stunning personalized videos to drive sales? You are?! To get started, all you need to do is register and you're on your way. It's FREE!
Tell your story with video!
Marketing alone isn't enough to differentiate yourself from the rest. Consumers are constantly demanding that companies these days prove their worth.
Humanizing your brand goes a long way. Genetically, we are wired to respond to stories, so make it memorable so people feel connected to your business. I feel like I'm repeating myself for a few paragraphs now but there isn't much else to it. If you want to leave a lasting POSITIVE impression on your audience, make it an authentic experience!
If properly applied, you'll find that people will buy from you before they buy from your competitors, even if they offer a similar service or product. While everyone is concentrating on moving as fast possible, increasing profits and getting attention, be the business with the human touch. Your audience will appreciate your effort and it'll reflect your growth. Get going!
---