We make it easy for you to choose the right format, for the right channel!
When starting a new video ( using the " Create New Movie " button at the top ) you'll be met with a screen. Here you can create the title of your movie, the theme you'd like to put it in and the format you'd like to choose.
Choose which format you will need, depending on which tab you choose ( Social Media, Programmatic Video, Dynamic)  you'll get various sizes
From there, click on the format of your choosing.
If you would like, you can add a tag name to your video , click " Add tag"
Once you've decided on everything, click "Create movie" and you're ready to go!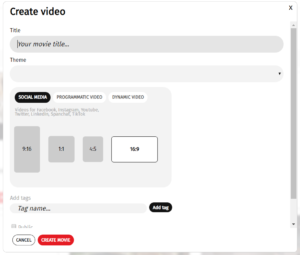 How to crop to your format
If you decide to choose anything other than 16:9, you'll have a chance to choose exactly which area of a scene you'd like to use.
As soon as you add a new scene ( How to add a new scene) , using your mouse and dragging the field of view to your liking.
Use the circular icon to position the scene to fit your format
You can also make adjustments to the length of the scene using the sliders near the timeline. Drag each end to your liking.
As soon as you're done, hit " Apply " !