You'll need a video to get you started. Here's how we do that!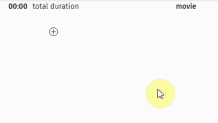 At the left hand side, you'll see the " Add a new scene " section, click the "+" to get started.
From here, you can either upload your own movie (up to 60mb) by clicking on the red icon
Or choose from one of our templates, there's plenty to choose from!
Choose the length of the clip by dragging the sliders from each end to your liking.
Hit the red " Apply" button and you're ready to go!
Additionally, you can rearrange your scenes in any way you want. Just drag them in the appropriate order!