We give you total freedom over your videos! Here's how you can change the videos or crop to your liking.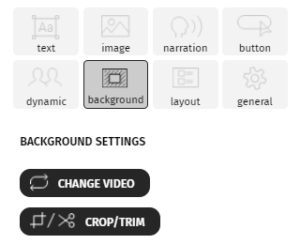 Click on the background button on your right side toolbar
To change the video, click the "change video" button and you'll be met with a video you've already been familiarized with here ( How to add a new scene)
You can also trip and crop your videos once more. This time click on the "Crop/Trim" button and your video will open once again.
Drag the sliders to the appropriate time frame and you're good to go, hit "Apply"!