Popups serve as additional interactive elements of your videos. They allow you to direct your viewers attention wherever you want and however you want. Let's talk about how you can add a popup to your videos.
On the left hand side, you'll see two options. Choose "Add Popup" to get started. Here you'll be met with a new menu allowing you to either choose from the system templates or view the templates you've already created.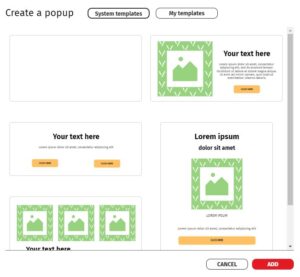 Choosing a template allows you to quickly apply a popup to your video. Choose the blank template to start completely from scratch.
Remember : In order for a popup to work, you first need to have a video within your story builder to attach to.