Enhance all content with voice narration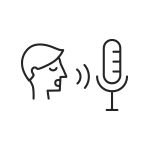 Adds dimension
A professional voice can bring your video to life. This is because the human voice can naturally add personality and bring that added depth to your content. Consider this when choosing who you want to narrate your message.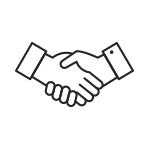 Builds trust
Can your audience trust your brand? Sure it can, and selecting the right voice to go along with that brand identity underlines that. When implementing voice narration, choose the voice that the audience can relate to when thinking of your products and services.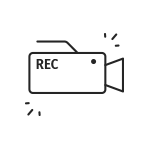 Emphasizes the video
Coincidentally, it brings out the best of what you already have. Meaning, your video will sound as incredible as it looks. This means holding onto attention and educating your audience when needed.
Humanize your brand with voice narration fast
The audio has to reflect what's going on within your video. Whether you're sending a nice welcome message to your newest customers or showcasing your latest products, tone is crucial, luckily you got a lot to choose from. Over 10,000 high quality voice narrations to choose from.
You don't have to break the bank to grow your brand
You don't need a professional voice actor
to get your message across. Use your own voice to highlight your services or educate your future employees with ease. Saving you money and time to grow your business in other aspects
Add narration all across your videos and make them stand out in today's sea of content. You've got nothing to lose, and a lot to gain!
Over 10,000 pre-recorded voice overs
to choose from, should you need it. If you're not feeling up for recording yourself, choose from our vast library of high quality pre-recorded voice overs!